Hawai'i's largest daily newspaper, the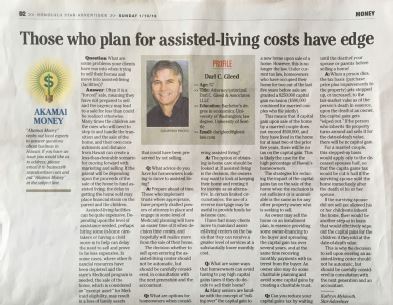 Honolulu Star-Advertiser, featured Darl C. Gleed in its January 10, 2015 Akamai Money column.   The article was based on a series of questions posed by reporter Kathryn Mykleseth on the subject of legal planning for the transition to assisted living.  Mykleseth, who typically relies on Honolulu attorneys and financial experts for her weekly column, learned of Darl while reading his profile and his legal articles on the Avvo.com website.  Although Darl has clients in Honolulu, Mykleseth was unaware that Darl C. Gleed & Associates was located on the Big Island and she initially requested that Darl meet her to discuss the article.  The press deadline left no time for air travel between the islands so after telephone calls and email exchanges, Mykleseth put together her nicely written column.  Our office has already received several emails from readers and many of our existing clients have requested copies of the article.  The Article is available at the Star-Advertiser's News Direct site by navigating on the calendar to January 10th and turning to page D2.
One interesting subject in the column involves the decision to sell (or not to sell) the family residence when a couple or individual have decided to move to an assisted living center.  Darl emphasizes that the decision not to sell the home may often be the best choice after considering the capital gain taxes and given that recent changes in the estate tax laws may make it more advantageous to have children (or others) inherit the home.
If you are considering assisted living and wish to meet with one of our attorneys, please call and schedule a no-obligation meeting to discuss the best alternative for your particular situation.